History, Vision and
Founder
2024 Conference - March 14, 2024
OUR VISION
The Leaders in Life Youth Conference has a diverse group of students on a planning committee who are empowered by their goal to give all youth a voice by providing meaningful student leadership opportunities and skill-building. We have adults who are engaged, supportive members. The conference participants are educated and enlightened on issues that are important to them so that they can make healthy and informed decisions regarding drug and alcohol abuse, future career exploration, and youth advocacy; and they are motivated to help others make positive decisions. Through every aspect of planning the Leaders in Life Youth Conference, every student values the diversity of their school and community and is empowered to create their future.
OUR FOUNDER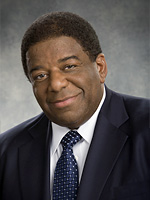 In 1998, Morgan Clayton, a Kern County businessman and community leader, attended the Bakersfield Business Conference, an annual conference with nationally and internationally recognized speakers for adults on business and political issues that affect our world. He had the visionary idea of founding a local youth conference planned by young people to give them a voice and to provide a forum in which to discuss issues that impact teens. He contacted the Kern County Network for Children and the Kern County Superintendent of Schools Office to help organize students around this concept.
Planning for the Leaders in Life Youth Conference began in 1999 with about 50 students and adults. In February 2000, the first conference was held with approximately 500 students in attendance.
OUR HISTORY
The foundation was laid for a student-led, student driven planning process to organize a conference "for teens, by teens." The main goal was to help a diverse group of young people plan an event to enable other teens to see what was going on in their community and to help them become aware of community and school-based programs that addressed the problems they faced. The format of the conference — who would speak at workshops, what programs and topics should be addressed, what resources would be highlighted — would all be decided by the young people.
The 23rd Annual Leaders in Life Youth Conference will be held on March 9, 2023.